Posted on June 23, 2015 in the Sassy Secrets category
"Dream of all your possibilities, then believe & act as if they are probabilities"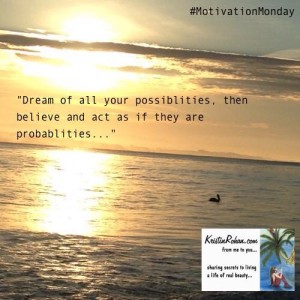 The power of positive thinking is powerful, isn't it?
And isn't it fun to daydream and picture ourselves living in a treehouse on an island, or onstage with the Beach Boys,  or inspiring thousands of women to have confidence and becoming screaming successes…that's FANTASTIC!
We won't get to where we want to go if we aren't positive.
And I urge you to go one step further…once you have in your mind what you want your life to look like – know it's probable…not just possible. Give your dreams all the steam you can!
I used to have this rickety old little deuce coupe of a BMW that I had to drive up hills in San Francisco. It was so difficult to get it started on a hill as it was stick shift and pretty rickety. So I had to time the lights so I could get a running start from the previous hill – what an adventure.
The same with your dreams – give yourself EVERY ounce of energy to succeed – then live as if your dreams ARE your life.
Sassy Secret: Get a crystal clear picture of what you want your life to look like…then act like it will happen – not that it's a possibility, it's a probability. AND you are worthy and deserve every drop of AWESOME!
And if you want to be wildly successful, have more choices and build your own fantastic life, drop a line…kristinrohan@gmail.com…I'm here to empower you to live your dreams…learn more about what I'm doing and how I can help your amazing self.
Comments