Posted on May 4, 2015 in the Sassy Secrets category
"Explore life…the fun is overturning new rocks!"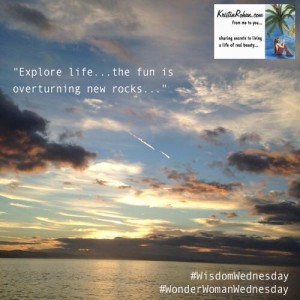 Isn't life full of new twists and turns everyday? Do you take the time to enjoy them?
I used to schedule my day to the nano minute, and I'd live like a robot feeling exhausted and boring by the end of the day.
I dreamed of having the time to drive a new route, discover a hidden beach or mosey through a sassy boutique —  yet I kept choosing chaos instead of Kristin, and that got me into a heap of trouble. I finally had to let go and let space into my life. I'd never done that before and it was life changing.
Since then, I've stumbled on inspiration in these all these places (and more) and re-energized. And who doesn't want to embrace that?
Do you ever slosh down by the sand looking for interesting rocks and shells? It's my favorite way to feel connected to nature and the universe. It also clears my mind and brings so much joy to my life.
Sassy Secret: Take some time for yourself and turn a new corner or skulk through a museum or musty bookstore…you never know what treasures await you! Life is an exploration – what rocks will you overturn today?
And if you want to be wildly successful, have more choices and build your own fantastic life, drop a line…kristin@therohans.com…I'm here to empower you to live your dreams…learn more about what I'm doing and how I can help your amazing self.
Comments