Posted on December 17, 2014 in the Real Sassy Recipes category
A green smoothie a day keeps the blues away…here's today's #ThirstyThursday recipe for the Kristin's famous Something Green & Sassy Kocktails…
My usual base of:
Then I add whatever fresh or frozen fruit I have handy – this time I added:
Must Haves – I always include my Arbonne Essentials:
1 scoop Protein Shake Mix – Vanilla or Chocolate – I used Chocolate this time
1 Digestion Plus packet
1 scoop Greens
I scoop Fiber Boost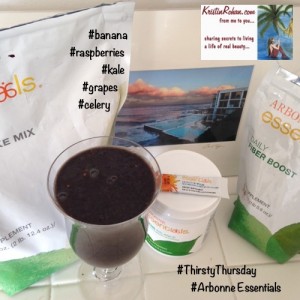 Add an awesome picture of Bondi Beach to gaze on while I'm drinking my smoothie and the day is off to a FABULOUS start!
What's in your smoothie today?
If you'd like to be raring to go each morning (literally and figuratively – hahah!), contact me at kristinrohan@gmail.com – I can help you shop for Arbonne's pure, safe & beneficial vegan & gluten-free nutrition products.
Beauty from the inside out – or in all of our cases, more beautiful from the inside out!
Comments