Posted on April 29, 2015 in the Sassy Secrets category
"Strung together, little moments of JOY can light up your whole world…"
It's easy to look at our lives through stressed out glasses, isn't it? We forget to stop and savor the moment — or even recognize these moments exist.
Yet they do.
Whether it's a funny comment your friend makes to you during happy hour or a pic someone texts you to know they are thinking about you, these are moments of joy to be savored.
Here's my challenge…don't dwell on the inconveniences, struggles, grudges, unfair situations and negative happenings.
Sassy Secret: Relish the little bits and bobs of joy that happen everyday…if you can't think of one, create one – right here…right now!
Look out the window, take a deep breath and enjoy the sunset…find an old pic from a happy occasion – Christmas, a wedding a birth or a holiday…
Pick up the phone and call one person who you KNOW will say your fabulous (if you have my number, call me!)…
Or turn on your favorite song (mine is God Only Knows by the Beach Boys) and revel in how awesome you are!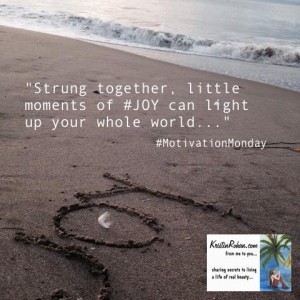 And if you want to be wildly successful, have more choices and build your own fantastic life, drop a line…kristin@therohans.com…I'm here to empower you to live your dreams…learn more about what I'm doing and how I can help your amazing self.
Comments