Posted on December 23, 2014 in the Sassy Secrets category
"Let go of your doubts…they are keeping you from FLYING!"
Ah Doubt… Doubt has been my roommate a long time. She's lived rent-free in my head and really curtailed me from living my dreams. I don't know why. And I don't care because I gave her notice, and replaced her with better roommates – belief, positivity, love and success.
How does that feel? Thank you for asking! I feel like I'm flying and that everything is possible – and not even possible but definite. Corny? Maybe, yet it's a true story.
Is doubt squatting in your head?
Sassy Secret #5: Kick doubt to the curb…let go and embrace your freedom – wheeeee!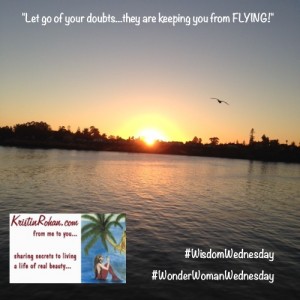 Come fly with me, let's fly away — Sinatra APPROVED!
And if you ARE ready to fly with me, drop a line…kristinrohan@gmail.com…I'm here to empower you to live your dreams…learn more about what I'm doing and how I can help your amazing self.
Comments