Posted on December 16, 2014 in the Sassy Secrets category
"Don't dream of adventure, LIVE your adventure"
Do you dream of a better life, one filled with upbeat background music while you are strutting your way down the avenue like it's a catwalk?
Honestly, I do. I even had the music to Pirates of Caribbean playing from a greeting card in my bike basket with a skull and crossbones air freshener swinging from my handlebars just to create the effect.
I wanted to create the ambiance that I was living the life I always envisioned. And you know what? It started to happen — slowly but surely, my life became more exciting. We moved to Australia, I started a business, I became friends with the most fabulous people, move to LA, moved BACK to Capitola and now embarking on my Arbonne adventure…and it's because I started living my adventure instead of just dreaming about it.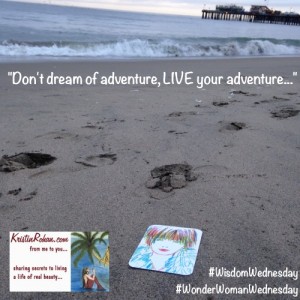 What's your picture? What music is playing? What are you wearing? Who's around you?
Sassy Secret #4: You can be the star in your own movie. Just own it…and start LIVING it…and invite me along. I love a good adventure!
(Queue Wonder Woman theme music)…
Learn more about my adventure or contact me (KristinRohan@gmail.com) and learn more about how you can live an amazing life with Arbonne!
Special thanks to Janette Valentino for creating and sharing her inspirational mood ladies – visit her here for your own set…it'll change your life!
Comments