Posted on November 5, 2014 in the Sassy Secrets category
"Believe you already are exactly who you want to be…"
Have you spent time wishing you were a better person and feeling like you couldn't live up to your expectations? I know I have — and that kind of thinking has kept me from becoming a better person. I've felt like I didn't measure up (to what, I have no idea) and I wasn't special enough to deserve an awesome life.
I now realize that's kooky – I already have in me everything I need to be the most fabulous woman I can imagine. So do you. If we embrace our best bits and accept ourselves and all our quirks, we can have the confidence to shine!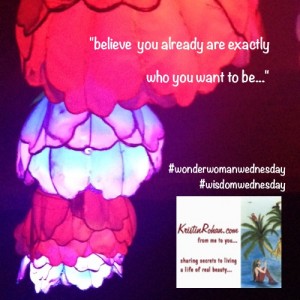 I see this light in all the wonderful women I'm proud to call friends. Do they see it in themselves? Not always, so I'm happy to remind them. Don't waste another second feeling like you aren't the bees knees…you are!
Sassy Secret #3: Own your amazingness and believe you are super awesome and special!
Learn more about my adventure or contact me (KristinRohan@gmail.com) and learn more about how you can live an amazing life with Arbonne!
Comments