Posted on October 27, 2014 in the Sassy Secrets category
"I get up in the morning looking for an adventure"
Today is my official launch as an Arbonne Consultant…I'm thrilled that I now get to throw parties for a living, surround myself with my favorite women, build teams of the best and most fabulous, and get paid to live and share a healthy life…win win WIN!
I love sharing secrets – beauty secrets, cooking secrets, business secrets…and helping people…thus my tagline. I also believe beauty and health start from the inside. So I'm bringing it all together and sharing it with you.
Let's get it started! It's Motivation Monday and this quote is from George Foreman.
So Sassy Secret #1…Make just one area of your life more of an adventure…
And if you like pictures…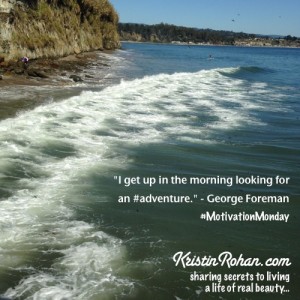 So come along and enjoy the ride…it's going to be a hoot!
Learn more about my adventure or contact me (KristinRohan@gmail.com) to learn more about how you can shop AND get paid with Arbonne.
Comments